How exciting is this?!?!?!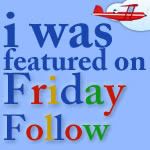 Come on by and link up!!

I am also participating in...

Hello and welcome to all of my new followers. *waves* I just wanted to give you a little bit of information about myself. I am 27, married a little over 2 years to a fabulous guy, we have 2 cats, 1 dog, and a bird.
I am a spoiled rotten princess who is now having to face the reality of taking care of a home by myself without my mom to pick up after me. It's been a struggle. I can't cook, I hate to clean, and I am the most disorganized cluttered person ever. I blog about my pets, my recipes, my to do lists, cleaning tips, and photography and crafts. I have a schedule set up so far as follows...
Monday - Lady Hill's (that's me) Menu Monday
Tuesday - Lady Hill's To Do Tuesday and Shutter Love Tuesdays from Trendy Treehouse
Wednesday - Lady Hill's Work Out Wednesday
Thursday - Twitter Hop Thursday and Lady Hill's Think About Thursdays
Friday - Lady Hill's Friday 5! and all the Friday Follows
I post a lot of photos, and I LOVE comments and I respond to all of them. If you'd like me to follow back please be sure to leave me a link. :-)